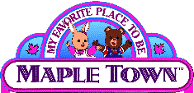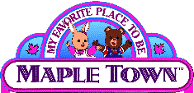 New! "Stuff I Like" AKA Kelly has compiled a fan DVD set with four disks for sale here on iOffer. The episodes are recorded from VHS tapes from the 1980s and all are complete and have commercials removed. They range in quality from what you will find if you purchase a VHS copy of Welcome to Maple Town new to an EP VHS recording from TV, complete with tracking and rolling problems. Only one episode (18-The Beaver Family Pool) is pretty much unwatchable due to complete tracking degradation on the original tape it was recorded from. She rates the audio and video quality between 8 and 9, but I would give it a much broader range of 2-8. Still, it's the first and currently only way to get English versions of some of the great classic episodes like "The Witch's Castle" and "A Long Forgotten Dream"!
In 1988 Family Home Entertainment (F.H.E.) released six Maple Town videos. With the exception of the first video, each tape contained two episodes. For detailed episode descriptions, see the Adventures page.
Welcome To Maple Town

"Feature-length animated fun as Patty Rabbit, Bobby Bear, Fanny Fox, Mr. Mouse and Wilde Wolf share the magic of the place where everyone wants to be!" Includes the following episodes:
Welcome To Maple Town - The Rabbit Family moves into Maple Town and tangles with Wilde Wolf.
The Stolen Necklace - Patty and Bobby track down Wilde to recover Fanny's necklace.
The Pot That Wouldn't Hold Water - Wilde steals from forgetful Mr. Mouse's repair shop.
The Greatest Gift Of All - Mikey Mole and Wilde have the town digging for burried treasure.

1987/COLOR/86 MIN.
This video can actually still be found new and sealed on Amazon and Ebay.