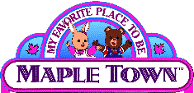 If you like Maple Town, you might also like:


Forest Families was another line of small animals that appeared around the time of Sylvanian Families and Maple Town and featured a wide variety of animals. Like this site, Xara's Forest Families is the only fan site of its kind online!


Calico Critters are simular to Maple Town and are still being sold in the US today.


Sylvanian Families are what Calico Critters are called in the rest of the world.

Animal Crossing is a video game featuring interactive talking animals that live in a town complete with a monkey train conductor.
Welcome Aboard!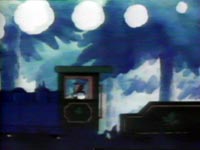 Click below to choose your destination, or visit the Post Office to mail a request to add a destination!
Maple Town on DVD
"Stuff I Like" AKA Kelly has compiled a fan DVD set with four disks for sale here on iOffer. The episodes are recorded from VHS tapes from the 1980s and all are complete and have commercials removed. They range in quality from what you will find if you purchase a VHS copy of Welcome to Maple Town new to an EP VHS recording from TV, complete with tracking and rolling problems. Only one episode (18-The Beaver Family Pool) is pretty much unwatchable due to complete tracking degradation on the original tape it was recorded from. She rates the audio and video quality between 8 and 9, but I would give it a much broader range of 2-8. Still, it's the first and currently only way to get English versions of some of the great classic episodes like "The Witch's Castle" and "A Long Forgotten Dream"!

Jacc's Sylvanian Forest
While technicly a Sylvanian Families website, it does have a section for "not Sylvanian enough" figures, including Maple Town.

Maple Town/Palm Town
A Japanese Maple Town site that includes info, characters, pics, and more.

Maple Town Fan List
A listing for fans of Maple Town. Also includes a link to image gallery of characters.

Palm Town
Includes tons of screenshots from Maple Town and it's sequel Palm Town (only in Japan). Also includes fan art.

"Your Childhood Is Here!"
Includes Synopsis, Memories, and more.

Everything around "In the 80s"!
Includes Chat Room, Classifieds, and messageboard. Also, a little on Maple Town the show and the toys.
"You weren't dreaming and you aren't crazy. It was the Golden Age of Nickelodeon. And we were there."
Includes Maple Town, Noozles, and much more.
Extensive Cartoon Archive.
Includes Maple Town Info, Episode Guide, and Pictures.

Classic Nick!
Includes Maple Town Show and other Nick shows from the time.

Toei Animation Official Site
The official site for the original Japanese series, though it is naturally in Japanese.


Use the graphic below to link to Maple Town!